Regular price
$20.00 USD
Sale price
$15.00 USD
Unit price
per
Sale
Sold out
PUMPKIN REAPER is here to collect your fall season! Haunt the blend of pumpkin spice mixed with SPEARTEN's energy formula for a tasteful season!
Sustained Energy
High in Vitamins/Nutrients
No Proprietary Blends!
No Crash; No Jitters!
3 or more ships FREE (U.S. only)!
SEASONAL FLAVOR

PUMPKIN SPICE
MEDIUM ROAST
Honduras Bean Origin | Net Weight: 12 oz | Brews Hot or Cold | Medium Grind Size
Share
View full details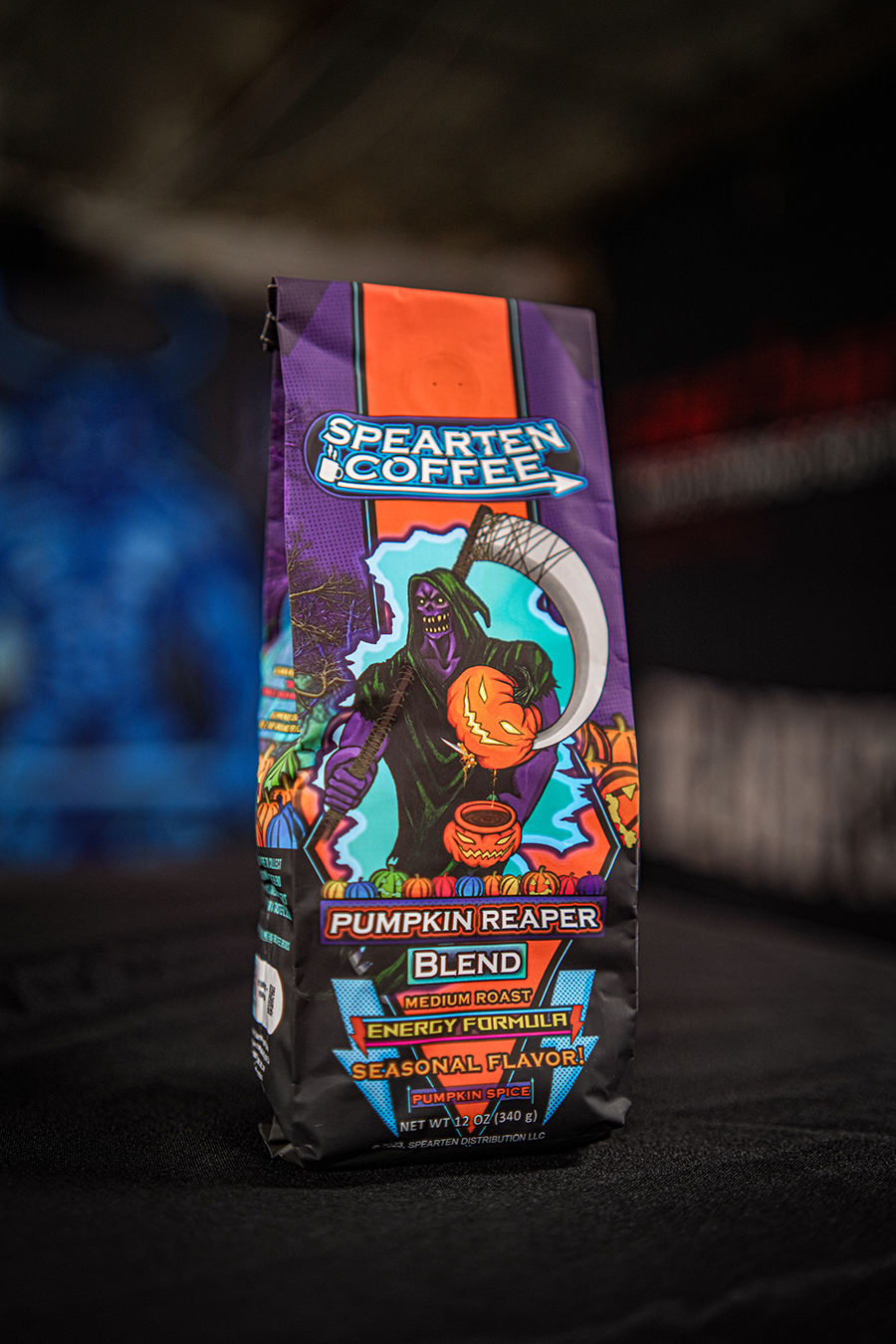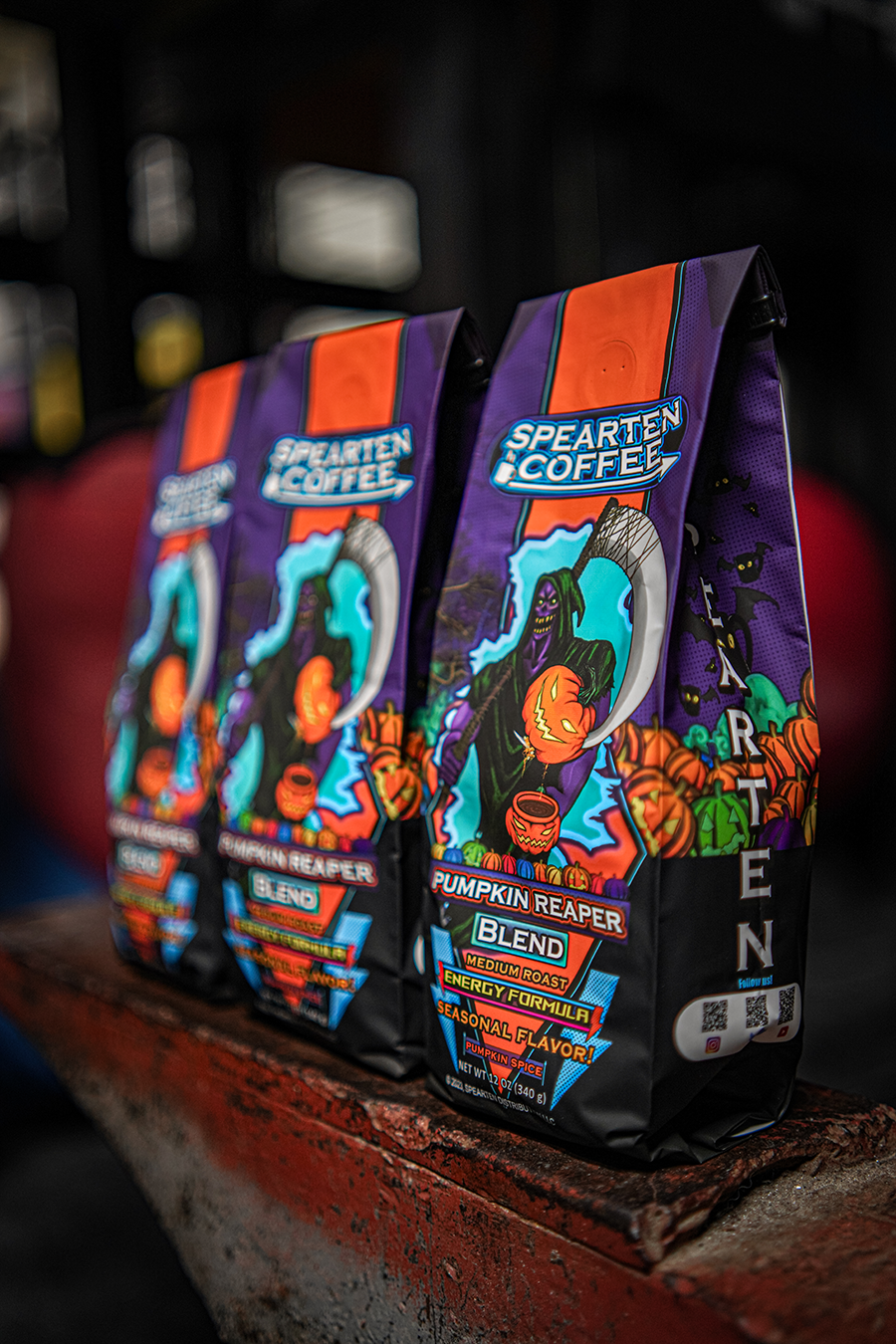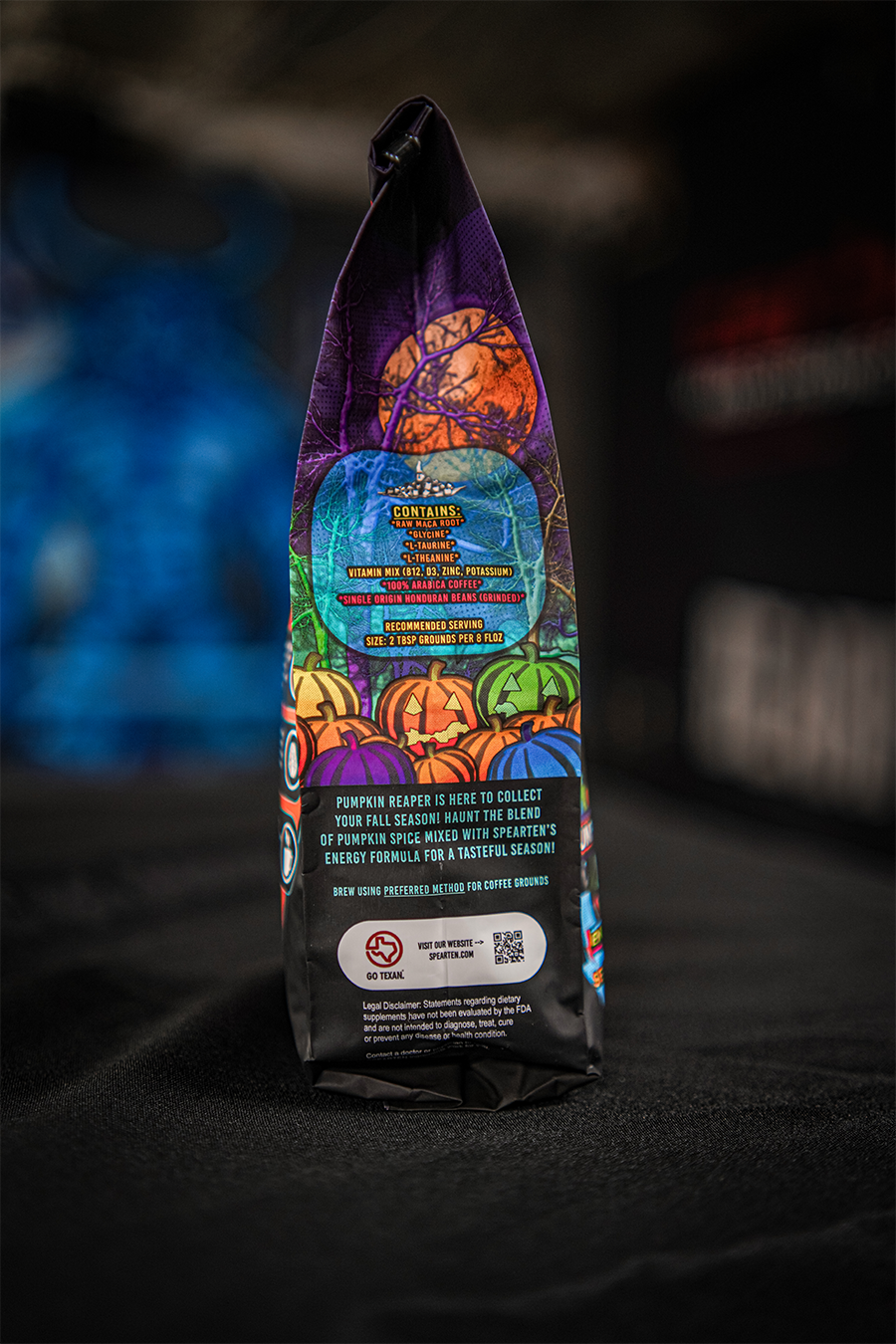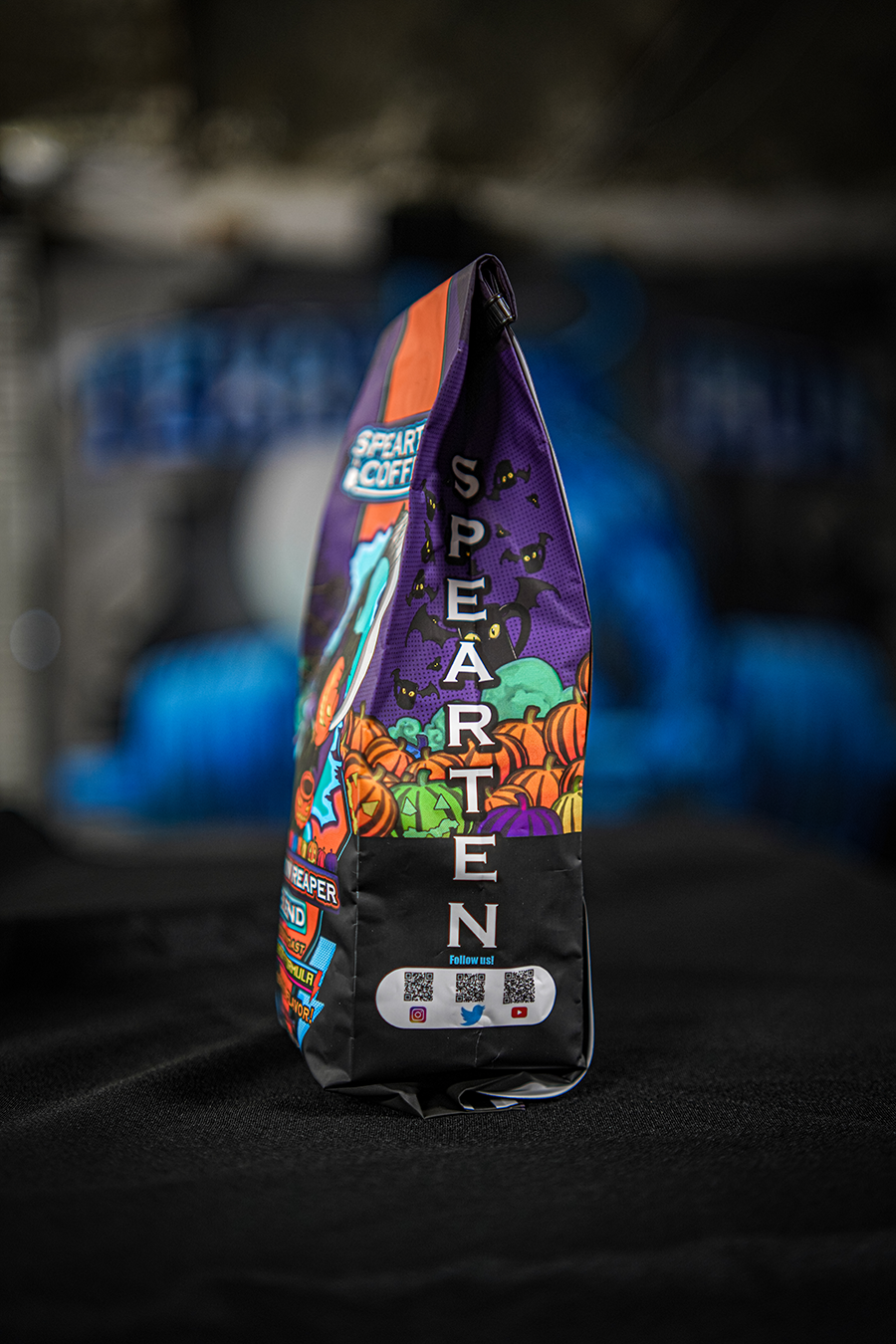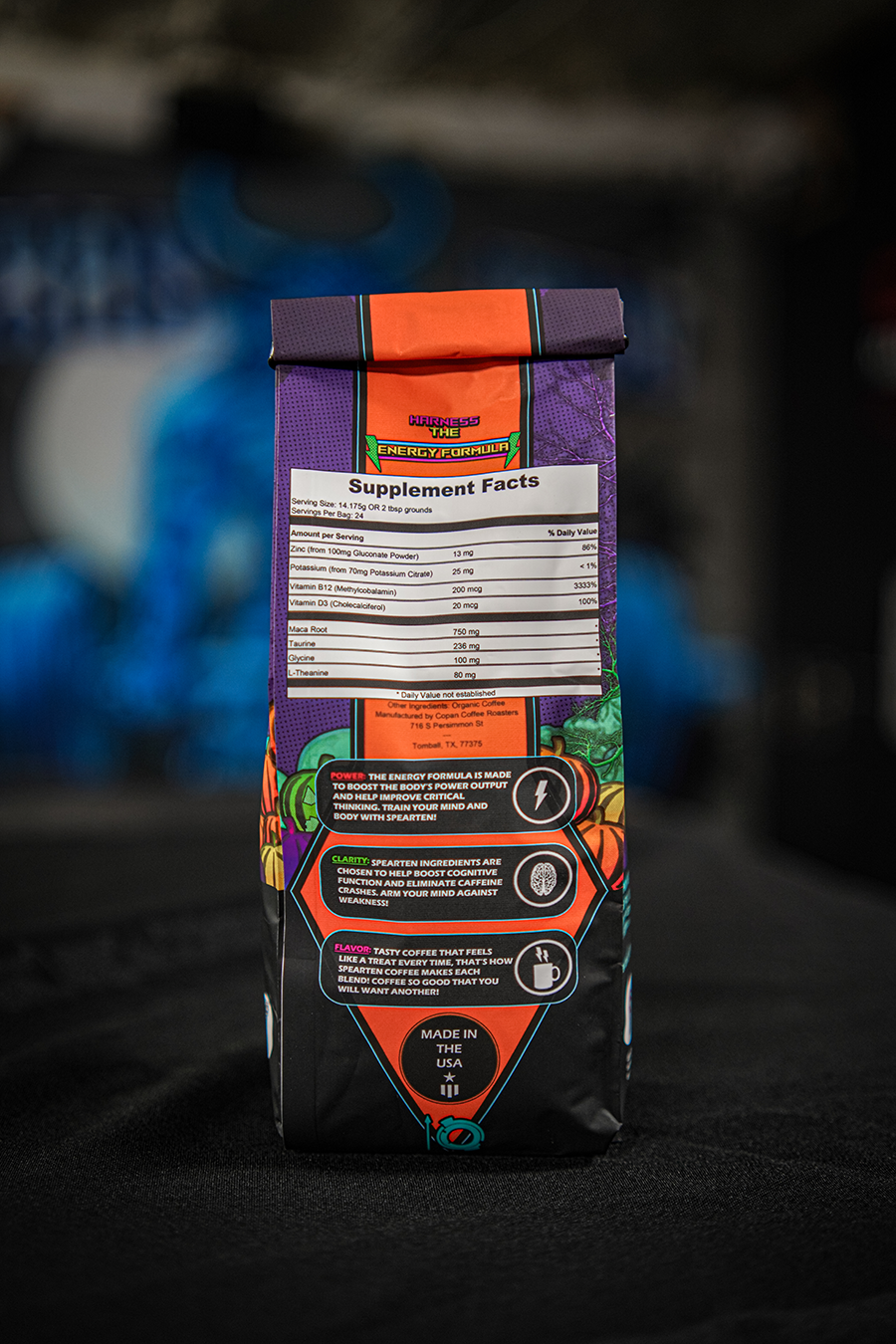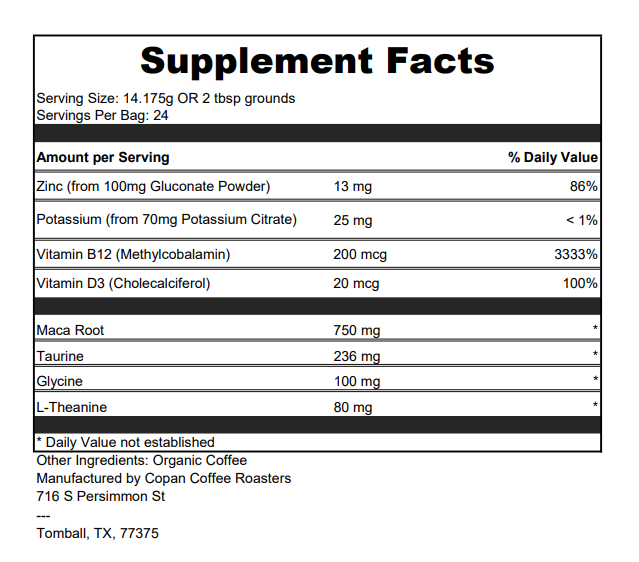 SPEARTEN ENERGY FORMULA
What is the Energy Formula?

The Energy Formula is a mix of vitamin/supplement powders dispersed evenly into our coffee grounds. These ingredients work in tandem with one another to help you focus, improve endurance, and spear through 10 or more obstacles with each cup!
Power, Clarity, AND Flavor?

Our coffee is made several key ingredients, let's cover them!

GLYCINE

Glycine is a substance that our body produces naturally. When supplemented, it helps with improving nutrient absorption, such as vitamins and proteins. Glycine uses glucose in our body to produce energy. It has antioxidant protection to prevent damage to healthy cells. This goes hand-in-hand with our supplement profile of our coffee blends to help deliver more sustainable and lasting energy to your body. It also is used in many reactions for the body to help produce energy, including peptides, bile and nucleic acids, and much more.

MACA ROOT

Maca Root is a Peruvian root tuber that grows in the highly-elevated slopes of the Andes, with an elevation of 12,000-15,000 feet above sea level. Research studies have shown significant (120-200%) increases in endurance, stamina, and adaptability to stressful environments by consuming Maca Root regularly. Studies have been limited to institutions within Peru, but still show promising results. It is high in minerals (zinc, iron, potassium, magnesium, phosphorus, and calcium), sterols (6 found), up to 20 essential fatty acids, lipids, fiber, carbohydrates, protein, and amino acids. SPEARTEN is being the SPEAR-HEAD when it comes to Maca Root!

L-TAURINE

L-taurine is a widely versatile supplement. Taurine has been noted for improving anabolic processes and protein synthesis. Taurine can also improve the utilization of our bodily cells and make our muscles appear larger! Taurine aids electrolyte balance and proper utilization of sodium, potassium, calcium and magnesium, as well as helping us digest fats and soluble vitamins!

L-THEANINE

L-Theanine is a substance typically found in green tea and some mushrooms. It serves as a relaxant and has calming effects. When combined with caffeine, this is said to sharpen the mind and improve cognitive function. It can also stabilize caffeine as to prevent crashes and jitters, potentially also lessening anxiety.

VITAMINS/MINERALS

Vitamins and Minerals are the basic essentials to any diet! We load up our coffee grounds with Vitamin B12, Vitamin D3, Zinc, and some Potassium! These ingredients all assist in optimizing energy levels, improving mental clarity, bone density, endurance, and muscular health!
Shipping?

We ship all over the U.S! We do have some shipping costs that vary:

(All shipping rates are calculated by UPS and USPS)

1 Coffee Bag or Apparel Item -> Lowest Shipping Cost

2 Coffee Bags -> Higher shipping cost

ANY ORDER OVER $50 SHIPS FREE!
How's the Quality?

Lucky for you, our coffee grounds are certified organic and roasted in our local area! Our coffee is bagged immediately after roasting to preserve freshness!

We are a GO TEXAN partner and our coffee represents true TEXAN QUALITY!
I loved this coffee!
Delicious and gets the job done! Great for a morning cup or pre workout! Worth a try for sure
conan the bodybuilder
This is my favorite flavor. I love the blend. And it gives me sustainable energy , with no headaches and maximum focus. This is my go to over any coffee place because this is the best coffee company. And I am not just saying that. The owner has a great heart and they always respond to my feedback on product to make improvements. Highly recommend, 10/10.